Former

Raffles JC

Lecturer & Assistant Department Head
Former

Head of Department

in Catholic High Secondary
Taught in

MOE

Schools for 
O-level Physics  ·  IP Physics  ·  A-level Physics
👨‍🏫

Taught Personally by Top Physics Tutor
🥇 'A' graded ex-RJC teacher
😁 Students like Physics more
🤺 Learn Life Applications and Score
🏆 Sec 4 Physics Results 🏆
Raffles Institution Raffles Acad    – A1
Raffles Girls' Sch                          – A1
Hwa Chong Institution                  – D7 to A1
Nangyang Girls' High                   – C6 to A1
National JC IP                              – C6 to A1
Singapore Chinese Girls' Sch      – B3 to A1
Catholic High School IP               – A1
River Valley High                          – D7 to A1
WestSpring Sec                           – A1
Anglo Chinese Independent OL   – A1
ACS Barker                                  – Highest in Class
Saint Joseph Institution OL          – A2
🏆 Sec 3 Physics Results 🏆
St Nicholas Girls' Sch IP – F9 to A1
St Nicholas Girls Sch x 5 – A1
Singapore Science and Tech – A1 (highest in class)
Singapore Chinese Girls' Sch – A2
WhatsApp 
 96533573 now! 
What Students Say…..
"Kungfu Physics really helped me a lot throughout my JC1 year and Mr Tan really hopes for the best for us, he is patient and tries his best to encourage us and to clear our doubts. He always tries his best to help us with the questions we have difficulties answering and does it patiently, making my learning experience much more enjoyable, this led me to have more confidence when answering questions as well. " SianYing "A" for Promos, YJC
What Parents Say…..
After the first lesson with Mr Tan,
"my son (JC2) immediately ask me to sign up his younger brother for Sec 3…"
"my daughter (JC2) is full of praise for your teaching quality. She said with a teacher like you, who needs to attend school!"
"my son's (S3) eyes brightened up…..!"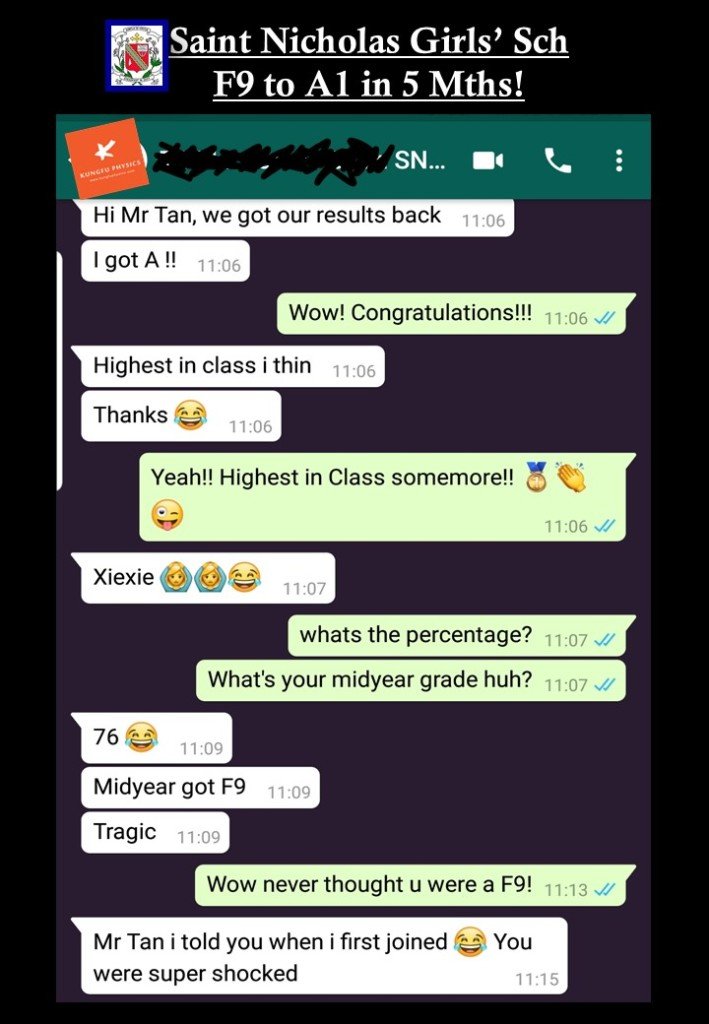 Before attending Mr Tan's physics tuition, I was doing very badly. I remember failing my CA1 physics exam by a few marks. I really Disliked Physics then.
After attending Mr Tan's lessons, I could feel myself gradually understanding topics better and realized what was needed to answer questions well. Mr Tan actually made me like physics. He was able to explain concepts with ease and answer any questions that I had. I am now able to do physics questions easily without any struggle which is a huge difference compared to before I attended Mr Tan's lessons.
Under his guidance, my result for physics has improved greatly. Thank you Mr Tan.
D7 to A1!. Shaun Lai, Maris Stella High School.
Before I have joined this tuition, I was struggling in school, trying to understand what is the teacher saying in class. I have no interest in physics, as every lesson was very boring and difficult to understand. During year 3, I was scoring very badly for physics, and I had no clue what I was doing.
However, after attending Mr Tan's lessons I year 3, my results have been slowly improving, grasping the key concepts for each topic, with well-crafted notes that are easily understandable and good for your revision, as it is very concise, unlike the school notes that crams in a lot of information. The practice questions allow us to link different topics in physics together, which help us tackle a lot of exam questions. These questions also allow your physics concepts to be deeply rooted into your memory, allowing you to pull out those concepts during the examination.
Thank you, Mr Tan, for giving us a different perspective in physics for our daily lives and fro the constant guidance you have given me the motivation to enjoy physics and to study harder for other subjects as well.
Junfun, River Valley IP, 'A1' Year 4
Parent of Sec 4 IP Student
Nanyang Girl's High School IP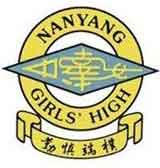 We are fortunate to have found Kungfu Physics for our daughter in Sec 4 IP. Not only she begin grasping the concepts better and make significant improvement in her work at school, but she could also translate those improvements to her result, culminating to an achievement of an A1 grade for her final year examination.
Gabriel played an instrumental role with his caring and meticulous teaching and coaching methodology. Our daughter shared that Gabriel's lessons were easy to understand as he uses real life examples which greatly enhances the student's absorption of the concepts.
As parents, we were able to be in frequent communication with him and he is very responsive in updating us on our daughter's progress. We highly recommend Kungfu Physics to any parents and students looking for help in this subject.
Mr. Kevin Low Parent Nanyang Girl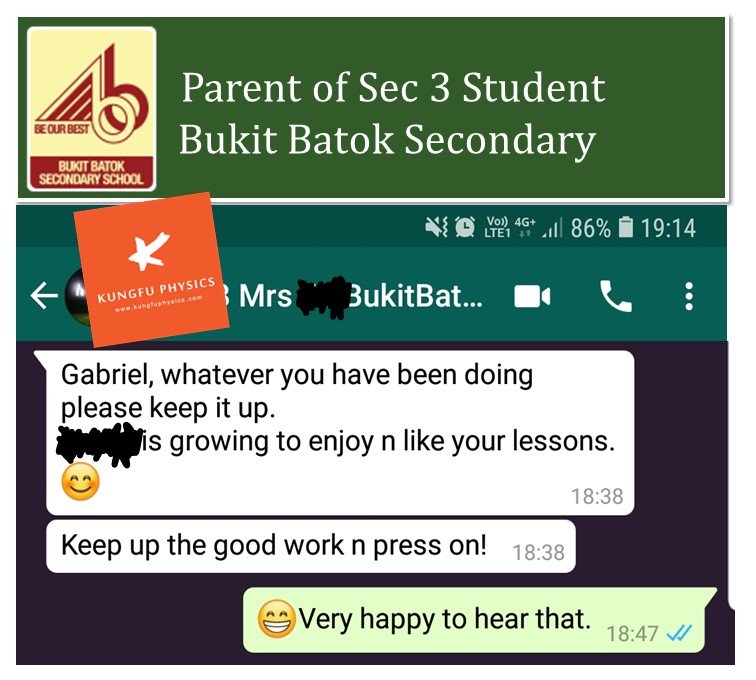 WhatsApp 
 96533573 now! 
Get The Top Physics Tuition in Singapore
Kungfu Physics is Singapore's premium Physics Tuition Centre providing IP Physics tuition, O Level Physics Tuition and JC Physics Tuition. The centre designs its unique curriculum and programmes by integrating methods proven by researches on high performing children and 'secrets' used by Top O-Level/IP/JCs. We equip our students with strong conceptual foundation, knowledge, skillsets required to attain stellar results as well as inspire them to see the world with new perspectives and understanding. In Kungfu Physics, all lessons, starting from Sec 3 Physics Tuition to JC level Physics Tuition, are conducted by our founder Mr Gabriel Tan, who has taught in Raffles JC (Raffles Institution) in both the JC and IP Secondary level as well as Catholic High Secondary School for O-Level and IP Physics track. Equipped with his teaching experience in neighbourhood schools and top JC, Mr Tan is skilful and able to help students from all walks of life achieve excellent results in their respective examinations. Although our Physics classes are held in group tuition settings, students get individual attention from Mr Tan (See testimonials) when he checks on their work, marks selected questions and answers queries during and after classes. With this, you can often see our students graduating with motivation and excitement about Physics as they understand how science could improve and better peoples' lives. Not only that, through the O Level and A Level Physics Tuition classes, students build new friendships across different schools, and benefit from sharing their materials and learning together. The two centres (Physics tuition centre in Bishan and Physics tuition centre in Bt Timah) are conveniently located next to Bishan MRT and Beauty World MRT stations, both with sheltered walkway linking from MRT stations to the centres. Contact us now as the pace of curriculum is fast. The longer you ponder, the more you missed your chance to get a distinction! See Class Schedule.   Or FAQs to find out more.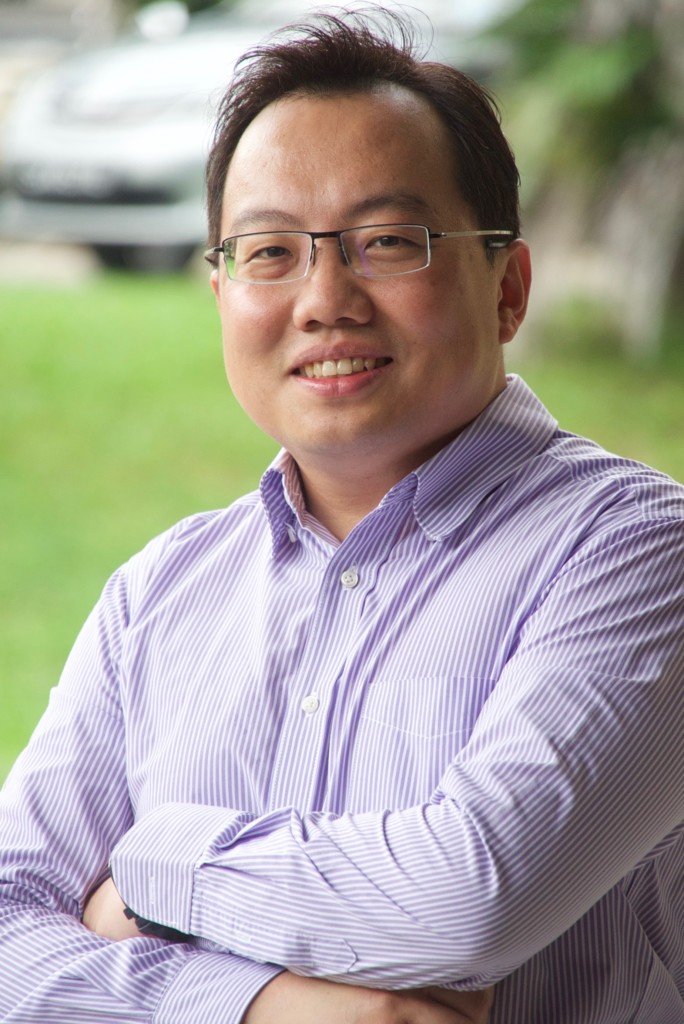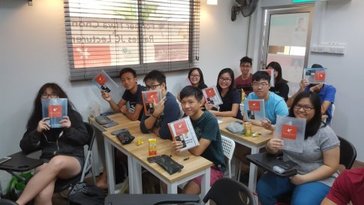 WhatsApp 
 96533573 now! 
Testimonials
Coming from the Integrated Programme in secondary school and not having to take the O Levels led me to assume I could understand Physics by simply listening in class and reading notes. I did okay in my examinations, just to get by.
But upon entering JC, I realised the gameplay was far different. Using the methods from secondary school caused me a Fail in my first JC physics test. At that instant, I realised how weak my foundation was. I was so scared because of how much more effort I needed to put in to strengthened my secondary school content, yet at the same time, new and more difficult topics were coming my way. These were on top of my already busy JC curriculum and workload.
My mum was looking for tuition centres to save my grades when she came across Kungfu Physics on the internet and asked me to attend a trial class. On the day of the trial, Mr Tan went through Work, Energy, Power, a topic taught in secondary school and revisited in JC. Within that lesson, I patched up all my learning gaps for the topic and gained confidence and knowledge to tackle any other WEP problems.
Of course, continuing the journey with Mr Tan, my grades improved. With Mr Tan's clear and precise teaching, picking out exactly the mistakes we would make, and patiently going through the tough concepts that our school teachers often brush through due to the lack of time, I'm starting to feel more confident in talking physics problems and more interested in solving my tutorials/extra physics question. I believe that this confidence & interest is what brought me an 'A' in my promotional exams. Thank you Mr Tan
Chelsea EJC, A for JC1 Promos!
Before I joined Kungfu Physics, my concepts were unclear and I always had difficulties linking up which concepts to use and the questions I attempted. There were just too many concepts in Physics and I had a hard time thinking and using the correct concepts for the different questions and always ended up using the wrong concepts to answer the questions.
After joining Kungfu Physics, I realised that there were so much more that I didn't know of and my concepts were much clearer. I learned many new things and this made my attempts at questions much easier than before. I can now know which concepts to use, for the different types of questions I attempt. This reduced the time I take to attempt the questions by a great deal.
Kungfu Physics really helped me a lot throughout my JC1 year and Mr Tan really hopes for the best for us, he is patient and tries his best to encourage us and to clear our doubts. He always tries his best to help us with the questions we have difficulties answering and does it patiently, making my learning experience much more enjoyable, this led me to have more confidence when answering questions as well. Thank you Mr Tan for your support and your guidance throughout JC1!
Sianying YJC, A for JC1 Promos!
Our Philosophy
At Kung Fu Physics, our Physics tuition classes go beyond the textbooks and studying just for exams. We aim to show students how they can apply Physics in their lives. We help students see the how physics can be applied to many fields of work, be it in sports, engineering, economics, medical equipment and even in leadership, management and cooking. We are glad to see that after enrolling in our Physics tuition classes, students are motivated and excited to see how the concepts they have learnt apply to life and their future careers.
Two Locations to Choose From
Bishan (Kungfu Physics)
2min from Bishan MRT/Interchange, sheltered walkway!
Blk 505B Bishan Street 11 #01-422
Singapore 572505
(near S11 Coffee Shop & junction of Raffles Institution)
Bukit Timah (Kungfu Physics)
1min walk from Beauty World MRT, sheltered walkway!
170 Upper Bukit Timah Road
Bukit Timah Shopping Centre #B1-25
Singapore 588179

For enquiries and registration, call/email at 
WhatsApp  96533573 now! 
Email: mrgabrieltan@kungfuphysics.com
KungFu Physics Journey (KFPJ)
I strongly believe that 'Mastering Physics is like learning Kung Fu'. The Kung Fu Physics Journey (KFPJ) which I have developed maps out the stages which a student has to grow through in order to master physics well.
5 Stages of Mastering Physics
Mouseover Each Stages to Learn More!
1. Foundation
1. Foundation
Units, Significant figures, Graphical analysis, Area under graph, Vector manipulation and graphs, Vector equations, Free body diagram, Case comparison etc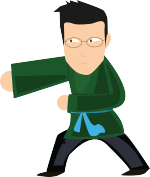 2. Basic Strokes
2. Basic Strokes
Definitions, Concepts by topics, How to use formulae, Basic problem solving, Common questions etc.
3. Basic Kung Fu
(Within Topic Applications)
3. Basic Kung Fu
Accurate identification of concepts, Application of formula, Speedy Problem solving, Answering Qualitative questions, Evaluating answers etc.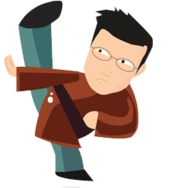 4. Advanced Kung Fu
(Cross Topics Applications)
4. Advanced Kung Fu
Accurate identification of concepts across topics, Fusing formulae and concepts, Complex problem solving, Advanced qualitative questions etc

5. Master Level
(Physics For Life)
5. Master Level
Interdisciplinary Concepts, Physics in Life, Sports, Economics, Retail, Automobile, Medical Applications, Cooking, Business, Leadership, Management etc